Types of chemical storage cabinet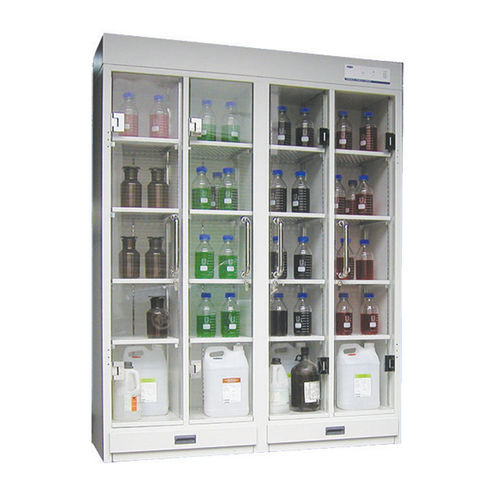 There are various types of chemical substances, and each type necessitates a distinct set of characteristics in safe storage containers. Fortunately, there are several types of chemical cabinet storage available to maximize safety on the job site. There are several types of chemical storage cabinet Selangor.
Flammable Liquid
The first is flammable liquid storage. These cabinets are intended for the secure storage of flammable liquid containers. A red "Flammable – Keep Fire Away" warning appears on the front doors of these highly visible and long-lasting yellow powder-coated cabinets. This cabinet is also only for Class 3 flammable items such as gasoline, methylated spirits, acetone, aerosols, mineral spirits, and alcohol-based hand sanitizers.
Paint and Ink
Paint and ink storage is the next type of chemical cabinet. Paint and ink storage cabinets can help you keep your chemicals safely locked away while adhering to safety guidelines if you keep a large amount of paint or ink at your facility. Paint and ink storage cabinets not only improve on-site safety but also prevent chemical substances from being stolen. It also protects your employees and property by reducing the risk of a fire. What are the benefits of using a chemical storage cabinet? These paint and ink storage cabinets will protect your employees and property by reducing the risk of fire. They also help you comply with OSHA regulations and NFPA codes. Regulations for OSHA 29 CFR 1910.106 and the Uniform Fire Code 79.202 can be found here.
Acids and Corrosive
The following type is acid and corrosive storage. Acids and corrosives Containers can be used to safely store acids and other corrosive materials. Acid storage cabinets must be properly ventilated because acids emit fumes, either by being placed beneath a fume hood or by installing a PVC ventilation system.
The following corrosive materials necessitate the use of acid and corrosive storage cabinets:
Ammonia
Bromine
Hydrogen peroxide
Sodium Hydroxide
The following acids are commonly used in laboratories and industrial settings:
Nitric acid
Perchloric acid
Chloric acid
Pesticide
Pesticide storage is the other type of chemical storage cabinet Selangor. Pesticide storage cabinets are built to meet AS NZS 4452:1997 and AS 2057:1998 pesticide storage standards while also withstanding harsh Australian weather conditions. It helps to extend the shelf life of chemicals while protecting people's, animals, and the environment's health. Pesticide storage protects human and animal health, wells, and surface waters, as well as prevents unauthorized access to hazardous chemicals.
Conclusions
Finally, regardless of the corrosive material you're storing, your cabinet should be sturdy. Most of them will be made of special plywood or stainless steel. They should be built to withstand fires and other natural disasters in any case. Every corrosive material cabinet cannot hold all corrosive materials. Before purchasing your cabinet, check the Australian safety codes to see what is needed to safely store your substances while adhering to laws and regulations. Use these extra hints to help you decide which storage cabinet to buy, or simply click the link, chemical storage cabinet Selangor.